Children's Activities at the Library with Mison Kim
Children's Activities at the Library with Mison Kim
FREE EVENT
Friday, September 20, 2019
10 – 11:15 AM
Pike County Public Library
Join Mison Kim for a fun children's morning at the Pike County Public Library, on Friday, September 20, 2019, at 10:00. Mison will be sharing her beautifully-illustrated Dooleyglot Bilingual Board Books, FRUITS, BUGS, and TOYS. You might learn a few words in Spanish, Chinese, or Korean, but these books are designed for experiences that go far beyond learning a single word for an object. Mison's dazzling images invite young children to investigate and wonder.
There will be activities: Over-sized books, large soft puzzles, big stacking blocks, coloring pages, and more. While this event is intended for young children, please bring your parents—they'll be sure to have fun, too.
The first book of this series, FRUITS, Spanish Bilingual, won a 2019 Eric Hoffer Award for Excellence in Independent Publishing.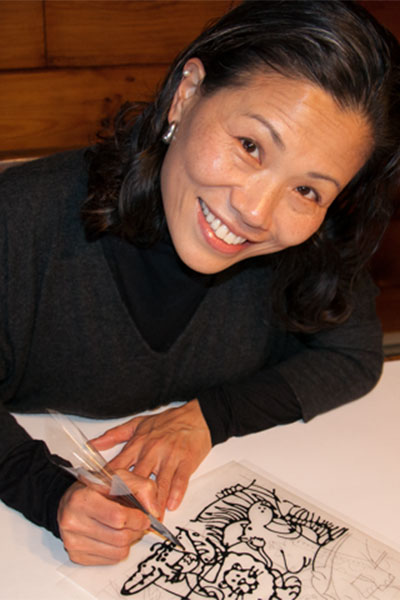 Mison Kim
Mison Kim is an exhibiting artist and illustrator. Her intricate drawings and paintings can be found in collections around the world.
Mison came to America from Seoul, Korea, as a high school student with amazing artistic talents but very few English skills. This experience made her appreciate the difficulties involved with learning a second language when starting as young adult. She persisted.
Mison won a National Talent Search Scholarship that allowed her to attend Pratt Institute, in Brooklyn, New York, where she earned both her Bachelor and Master of Fine Arts degrees in Painting. She spent many years after college illustrating in the New York fashion world where she developed her amazing hand skills. She has provided illustrations, motifs, pattern designs, and most recently personalized products for clients such as Tory Burch, Estee Lauder, Talbots, Macy's and The Gap, among many others.
Recently, Mison has incorporated Dooleyglot Books, and has developed a beautifully-illustrated series of bilingual board books that emphasize a balanced approach to learning. Each of her Dooleyglot books is designed so that every page turn is an entrance into a vibrant world of discovery where caregivers and children can share experiences that go far beyond learning just a single word for an object.
Mison is a member of The Society of Children's Book Writers and Illustrators.