by Lillian Longendorfer
The genre of Science Fiction and Fantasy has had a remarkable resurgence over the past several years.  Books and films such as Star Wars, The Martian, The Hunger Games, Divergence and The Game of Thrones have been big hits.    Progressive and monumental advances in the various sciences have provided ample fodder for the fertile imaginations of authors of speculative fiction.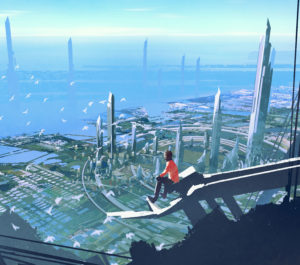 Writers of Science Fiction/Speculative Fiction are story-tellers who imagine how the benefits or dangers of scientific advancements could possibly affect the future evolution of life on planet Earth.  This opportunity to catch a glimpse of what our future might be is one of the reasons why I became a fan of science fiction.  I am not just a fan.  I am also a scientist as well as a wife, mother, artist and writer of science fiction.
My interest in science began in grade school when I received a chemistry set for Christmas that allowed me to generate and explode hydrogen in a glass milk bottle and to attempt to duplicate a physics experiment that postulated that the strange lights in the night sky were a natural phenomenon rather than UFOs.  My interest in science fiction also developed during those early years.  It was a time when brown-paper, dime novels written by science fiction authors such as Isaac Asimov, Theodore Sturgeon and Arthur C. Clarke were popular.  I eagerly read them, using every spare dime I earned to purchase the latest edition at the corner drug store.
Paralleling my wonder of all things scientific was a deep desire to one day become a physician.  After attaining a BS in Biological Sciences, I went on to medical school and spent the following eight years in family practice before moving on to a residency in Pathology and Laboratory Medicine.  I spent the rest of my medical career as a pathologist behind a microscope evaluating biopsy and surgical specimens and as a laboratory director ensuring the quality of diagnostic tests performed while at the same time bringing the latest advances in laboratory testing to the community hospital setting.
I see no contradiction in my dual passions.  Over the years I discovered that I am not alone.  Several of my colleagues throughout the country also enjoy science fiction and fantasy.  Some of them have even become involved in related creative writing and art.
As coordinator of the Science Fiction/Fantasy Panel at this year's Milford Readers and Writers Festival, I am pleased to announce the panel's theme: "The Science in Science Fiction".  The participating authors include KAREN HEULER, a novelist, short story writer and author of In Search of Lost Time, as moderator.  Panelists are MATTHEW KRESSEL, a Nebula and World Fantasy Award nominee, editor and author of King of Shards, MERCURIO D. RIVERA, a World Fantasy Award nominee and author of Across The Event Horizon, and CHANDLER KLANG SMITH, who has worked in publishing and as a ghostwriter and authored The Sky Is Yours.    They will explore the use of technologic advancements in the various scientific fields of endeavor in current science fiction and their implications for the future.  Do you want to know what is in your future?  Come, listen and discuss.